Practical applications of herbs on the terrain of Centre Lothlorien and from Ayurveda.
By Richard Slager.
Get to know the herbs on the grounds and surroundings of Centre Lothlorien. Learn how to work with these herbs by drying them, composing tea, making massage oil with them, making rose water and how to use them in cooking. Experience how you can also use Indian herbs and spices for flavour and to promote your health.
Centre Lothlorien is a special place on a very versatile site. Because of the presence of different soil types, wet spots, dry spots, sun, shade, forest, agriculture and differences in altitude, there is a staggering variety of herbs growing on the property, in the garden and in the surroundings.
Herbs possess culinary and medical properties. During the course, we will explore the herbs, learn about their properties and how you can practically do something with them at home in a simple way.
The knowledge about herbs is based on local herbal medicine or phytotherapy. In the course content, we also bridge the Indian lore of Yoga and Ayurveda.
Ayurveda is the oldest medicine of the world and means 'Knowledge of Life'. Ayurveda is a medicine that treats the cause of complaints and disease rather than the symptoms. In Ayurveda, only natural products are used.
– Learn about herbs in a relaxing natural environment;
– Practical tips on applications of Yoga, Ayurveda and herbs;
– Activities take place outdoors as much as possible;
– Less than 1 day away by car;
Attention is paid to your personal situation or issues.
Activities take place Monday to Friday in the morning from 09:30 to 12:30. You can also participate in Yoga classes in the morning from 07:30 to 08:30.

About the organiser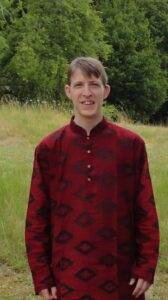 The week will be taught by Richard Slager.
Richard, together with Pinky More, is responsible for running the Yoga retreats and Yoga teacher training courses at Centre Lothlorien, The Yoga Institute France.
For years, he has worked in the Hotel and Tourism industry in several countries. In Kerala, India, Richard studied the basics of Ayurveda and Herbology. Richard completed the Yoga Teacher Training at The Yoga Institute in Mumbai. Now Richard teaches the Yoga Teacher Training Course at Centre Lothlorien, organises courses on the philosophy of Yoga and Ayurveda and conducts practical workshops on balanced eating, practical use of local herbs and preparation of oils and other herbal preparations.