Together with your friend, partner, relative, or by yourself. Make your relationships stronger by ancient Yoga Philosophy.
by Pinky More.
Relations play an important role in our life. They bring us steadiness, support and joy. However relationships can also undermine us. They can make us suffer or bring up our negative qualities. How is it that words and actions of another person can have a physical and mental effect on us? How is it that another person can create stress, pain, anger, sadness, fear and insecurity?
Did you know that Yoga can help you in this?
Yoga is holistic and can be implemented in all aspects of your life. You can not change another person, at least not directly. You can however, change how you perceive things, what effect situations have on you and how you react to others. By finding peace and calm within, you can have a positive effect on the behavior of others and ultimately improve your relationships.
In this week we work with practices such as Asana, Pranayama and Meditation. Subjects from ancient Yoga philosophy are discussed such as Patanjali's Yoga sutra's and Bhava's.
You can do the course alone to implement what you learn on yourself and you can do the course together to directly help you in strengthening your relationship.
– Yoga as it is taught in India;
– Personal attention and exercise adjusted to your capabilities;
– Practical advice on how to apply Yoga in your daily life;
– A beautiful and peaceful French estate surrounded by nature;
– Less than one day drive by car;
– Vegetarian meals.
Activities take place from Monday to Friday in the morning from 09:30 to 12:30. You can also participate in Yoga Asanas from 07:30 to 08:30. Attention is given to your personal situation or issues. The week is taught in English.
About the organiser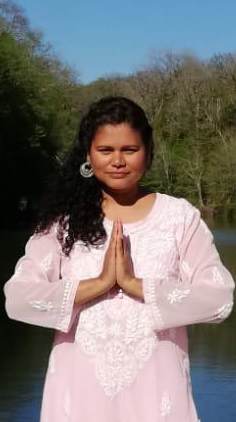 The week will be taught by Pinky More.
Pinky was born in Mumbai, India. Here she completed her Yoga education at 'The Yoga Institute', the oldest organised Yoga Centre in the world. After a few years of working and travelling around the world, she settled in the Netherlands to introduce Indian Classic Yoga, the traditional style of yoga. In Kerala, India, Pinky studied Ayurveda and started giving Ayurvedic massages. Since 2012, Pinky has been organising Yoga retreats at Centre Lothlorien. In 2019, she established the affiliation between 'The Yoga Institute' and Centre Lothlorien. Currently, in addition to leading her own Yoga Teacher Training Courses, she teaches in several countries in Europe and participates to Yoga programs in Dubai, Ghana and India.