We are very happy to let you know that Munkgerel Bat and Enkhtaivan Dorjdulam, the two Mongolian Shamains who impressed us all during the Human World Summit in June 2017, will return to Centre Lothlorien.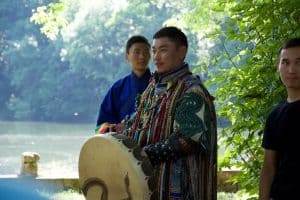 This spring, they will come to Lothlorien for a special week (May 5-12) about Mongolian Shamanism. They will share a lot with us about their culture.
The week starts at sunday 20.30h: Welcome and official Opening
Ceremonies
Presentation
Rituals
Consultations with the ancestors
Exhibition
Chakra healing and exercise
Archery training
Drum and harp seminar
Harp lessons
Dance
Traditional Handcraft training
Personal consultation and massage
If you have your drum, please bring it with you.
Week Highlight
SHAMANIC WORKSHOP
Personal Consultation with Mongolian ancestor.
Healing massage by Mongolian shamans.
Mongolian Shamanic Fire Ceremony.
Sacred Shamanic Ritual: Build Ovoo
ART and CULTURE WORKSHOP (new program)
Mongolian Shamanic Art Exhibition(shamanic costume, equipment, painting
Mongolian traditional handcraft training for all ages.
Mongolian Archery training for all ages. (People can learn how to shoot with Mongolian bow. We will provide bow. But if you have own bow feel free to bring you own.
Mongolian team
Munkhgerel Bat (Mg), Mongolian shaman, Director of "Mongol Tenger Unen" shaman association.
Chuluunzaya Sandagdorj (Chuka), Designer, Artist, Craftsman and teacher;
Munkhbayar (Muugii), Mongolian shaman;
Enkhtaivan (Peace) Mongolian Shaman and professional healer;
Price €225,- (excl. stay)
Participants This week is open for all people who interested in Mongolian Shamanism, Art and Culture.
[su_button url="https://centrelothlorien.com/en/reservation/" style="flat" background="#248f47″ radius="5″]make a reservation[/su_button]
[su_button url="https://centrelothlorien.com/en/stay/" style="flat" background="#248f47″ radius="5″]accommodation options[/su_button]